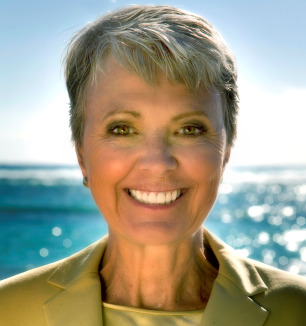 About Me
Barbara Baehler has been a Realtor Associate with Choi International since 1995, representing clients in the communities of Kailua and Lanikai and focusing on oceanfront and beachfront properties located on the world renown and award-winning Kailua & Lanikai beaches. As a long-time resident of Kailua, Barbara is extremely well qualified to assist clients with the sale or purchase of properties in this area. As a top real estate agent, she has earned the highest professional real estate designations including CLHMS-Certified Luxury Home Marketing Specialist, CRS-Certified Residential Specialist, GRI-Graduate Realtor Institute, and ABR-Accredited Buyer's Representative.
Barbara has has been nominated six times for the prestigious Aloha 'Āina Realtor Award, the Honolulu Board of Realtors' prestigious annual awards program, in 2008, 2014, 2015, 2016, 2017 and 2018. She was nominated by the public for the People's Choice Award, which recognizes Realtors for their exceptional service and high ethical standards.
Originally from Minnesota, Barbara attended the University of Minnesota and St. Mary's College. Her past professional experience has been as a registered nurse and flight attendant. Barbara is a member of The Screen Actor's Guild and has been featured in mainland and local commercials and television productions, including her role as "Mrs. Talbot" on LOST. Her hobbies include golfing, kayaking and participating in equestrian events. With her excellent communication skills and cheerful personality Barbara provides exceptional customer service for her clients, helping them to find the perfect property in this beautiful beachfront neighborhood and throughout the island of Oahu.
Testimonials
After 10 years of trying to find our dream home and I'm sure disappointing many a realtor along the way, we had the great fortune of meeting Barbara Baehler 2 years ago at an open house. While we passed (again) on that particular house we felt that she was the right agent for us.

Being on the mainland meant that we had to trust her opinion and over the next 2 years we emailed and talked and passed on few more before she found "our" home. A perfect home, in the community where my wife and I had met 25 years ago and where we plan on spending the next 25 years falling in love all over again.

So now we have the perfect home and have to come and see it, all while trying to have a family vacation with 4 teenage boys in tow and we only have 4 days, before we head to Maui, what could go wrong. With Barbara on our side, the answer was nothing!!

From the moment we touched down she was on it. She called and confirmed the next mornings appointment, even offered to bring coffee from the Kalapawai. When we got to the house, she didn't overwhelm us, instead she lets us discover what we had been waiting for. If there was a question, she answered it and then disappeared into the background, when we had another thought or question she appeared. It was perfect. (still don't know how she did it)

We agreed it was wonderful, but the price needed to be a bit lower and we would need to start and close in less than 2 weeks. My wife and I reminded ourselves we were on vacation and if it was meant to be, it would be. The next day we came back with the boys, they approved and we wrote the offer and then we really saw how much work has to be done and how easy someone can make it for you.

While we enjoyed circle island tours, dinners at Dukes and hikes to the pillbox, she scheduled the inspections, met with appraisers, found us an amazing escrow company, a property manager and negotiated the price to what we wanted, not near what we offered, but exactly what we offered and inside our timeline. Every morning was an email and a phone call with the days tasks, an explanation of what all these documents meant and what I was looking for when I read them. A plane ride over to Maui and I thought now its gonna get tougher. Nope...toughest choice was one mai tai at lunch or two. She continued to impress, it can't be this easy to buy our dream home.

As we got ready to board the flight home with 2 days left before we closed escrow, I told my wife maybe we should stay, just in case we need to be here or do something. She reminded me that we choose Barbara for a reason, we boarded the flight and have didn't think about it again.

It has been exactly 62 days since we bought our home and have probably spoken to Barbara at least once a week since then. In the first 30 days it was about the house, where do we find this, who does that, etc, etc. In the last 30 days its been about life and friendship and how lucky we are to have not only found an amazing realtor but a neighbor and friend. I can only hope that you are still reading at this point, because it is so important for us to express how amazing Barbara is, how wonderful she made this experience and how she exemplifies what a Realtor can be and what a difference a great one can make. We would recommend her to anyone!!

— Brad & Cindy
Barbara worked with us for over a year to help us find our dream home in Kailua. No small order due to our budget, "must haves", and the very tight market. When we started this journey, we would NEVER have considered buying a bank owned property. Well, we learned to never say never. We found the PERFECT location close to Kalama park. As mentioned, it was bank owner and up for auction. We heard that over 20 people put in a bid for the property. Thanks to Barbara's local real estate knowledge, professionalism and tenacity - we have become the lucky owners ot thie property. I truly believe without Barbara's help - the outcome would have been different. In our year journey with Barbara we learned many things. She is respected in the industry, has lived in Hawaii for over 40 years, puts her clients needs first, knows the ins/outs of the market like the back of her hand. On top of it all - she has a charming personality, makes herself available almost 24/7 if needed. She has also become our "coach" in regards to moving to the islands. I think Barbara could teach a seminar in regards to ethics, professionalism and island knowledge. Whether talking to other
realtors or people in the community, they say how fortunate we are to be working with Barbara.

— Wendy & Wayne
It is because of Barbara's keen negotiation skills that we own an amazing property! She was able to handle this transaction with grace and the utmost professionalism. She has a unique skill to be able to balance both sides of a negotiation with firmness and poise.

— Angela
Barbara was very professional on all levels. How she deals with the buyer and the seller at the same time is exceptional. She is well informed about the property and the area, keeps calm, very polite and helpful always. I have not experienced such professional help in real estate ever before. When with Barbara, the buyer and the seller feel secure. I can only recommend Barbara from a real estate and human point of view. She is the best!

— Karin
After much consideration with agents to list our home, Barbara was a 'TEN' on the scale of communications, marketing, attentiveness to detail and most of all making this an easy transformation of selling our home in Honolulu. From the moment we were introduced to Barbara and her support staff, we knew we made the right choice. Barbara never failed to meet a deadline when it came to guidelines of the contract, making sure the escrow was complete and the final issue, the 'CLOSING!' As a seller it's natural to have a price point set of what you think your property is worth, with Barbara she walked us through the process and we were able to meet our goals in a timely manner.

We would recommend Barbara's services to anyone that is looking to move and or sell their home in Honlulu. We have bought and sold many properties in the last 20 years, this move was the easiest thanks to Barbara's professional and detailed background.

— Richard & Kay
We interviewed a few agents for the sale of our beach house and have decided on Barbara. I am extremely glad we made the right decision. Barbara not only possesses exceptional knowledge of Hawaii's real estate market, she also has outstanding communication skills. She handled everything with utmost professionalism; she is very polite, calm & has a charming personality. I trust her opinion & recommendations! She kept us informed during the entire process. If any question arises, she usually responds within an hour. She makes herself available 24/7 if needed - i.e on one occasion she negotiated with the buyer's agent for hours & finally reached an agreement on a late Saturday nite (10pm!)

I would like to emphasize how Barbara has made this sale into a wonderful experience for us. We have not only chosen the right agent but also gained a friend.

I feel Barbara has provided us with outstanding service, going "above & beyond" our expectations of a REALTOR's role. I would like to nominate her for the Honolulu Board of Realtors' 2017 Aloha Aina REALTOR Awards Program.

— Marina
I am pleased to nominate Barbara Baehler for the Aloha Aina REALTOR® Award. Barbara deserves the award because of her exceptional service to get results. I have known Barbara for nearly a decade and over that period she has helped me purchase and sell properties in Kailua. This year, Barbara sold a property in Kailua that my wife and I owned with my in-Laws. She worked tirelessly to get the price we were looking for, holding weekly open houses for six months always keeping us informed and showing tremendous patience at all our requests. She went well above and beyond her duties making house calls to my mother-in-law for document signature, provide her with information, keeping her updated, etc.

Barbara is extremely hard working, dependable, efficient, accommodating, patient and exceedingly ethical in the way she handles her business. She applies best practices in the way she keeps her clients informed of market conditions and opportunities. She really listens and pays great attention to detail and is very knowledgeable of state laws and regulations. I have been buying and selling properties since the late eighties in two states and two countries. Therefore, I have worked and gotten to know many realtors. Barbara is at the very top! It is for these reasons that Barbara Baehler deserves the 2018 Aloha Aina REALTOR® Award!

A little more background from my previous experience with Barbara on what makes her an exceptional realtor, she:
1. Builds Relationships: I met Barbara at an open house for a property that was priced beyond my purchasing power, but that did not matter to Barbara. From the beginning she treated me with respect, answered all my questions and questions I hadn't even thought to ask. During the many open houses I visited, I noted how well Barbara attended to other potential buyers as well as her colleagues.
2. Perseveres: She kept me informed of opportunities along the way for three years. Barbara never tired, continued to keep me informed until I found the property of my dreams. She made it happen through her perseverance, high energy and keeping me informed of the changing market conditions throughout out the process.
3. Is Knowledgeable & Experienced: In 2014 Barbara helped me purchase another property and sell one of my rental properties in Kailua. Her extensive knowledge of the market helped price both these properties which made both the purchase and sale fair and well valued. In May 2015 Barbara sold my beachside rental near the top of the range.

— Carl