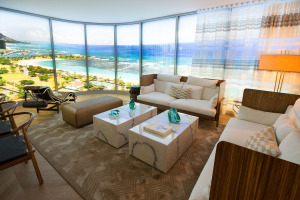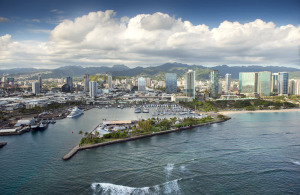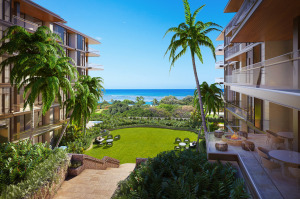 Ala Moana – The Path of Paradise
Ala Moana, or as it is referred to in Hawaiian — "path to the sea" – is a colorful way to describe this equally colorful district featuring a lively blend of residential and retail delights including shopping, entertainment, and beautiful beaches and parks within walking distance. Nestled just west of Waikiki and east of Honolulu Harbor, the Ala Moana /Kakaako area is just a short trip from downtown Honolulu's financial district.
The Perfect Day – From Beginning to End
With a vast variety of urban activities and venues all within easy reach, any visitor to Ala Moana will no doubt find themselves with a myriad of choices for daytime and evening entertainment. For the serious shopper, enjoy an adventurous afternoon at Ala Moana Shopping Center (the largest open air shopping center in the United States), Victoria Ward Shopping Centers and theater complex, or Aloha Tower Marketplace. If you're a nature enthusiast, discover the nearby Magic Island, Ala Moana Beach Park, and Kaka'ako Waterfront Park.
Luxury Living in Kakaako
Kakaako is conveniently located near several local yacht harbors with newer high-rise condominiums including Hokua, Koolani, and Moana Pacific, offering superb ocean vistas and sweeping views of Diamond Head. For a perfect ending to your day, take a leisurely evening stroll along Restaurant Row or Aloha Tower Marketplace, home to a variety of restaurants and popular entertainment nightspots.
Exciting new developments in this neighborhood, featuring sophisticated residences with luxurious amenities, are redefining luxury condo living in Honolulu and will provide exceptional residences in a cosmopolitan setting. A total of 25 or more residential towers are planned over the next 20 years and several are already under construction.  Strong interest and sales confirm the desire of buyers to live within walking distance to parks, beaches, dining, retail stores & entertainment venues.  Newer condominium projects include the Symphony Honolulu (across from Blaisdell Concert Hall), Waihonua, Ward Village (Howard Hughes development consisting of two residential towers "Anaha" and "Waiea" plus a master planned community of shops and restaurants), One Ala Moana  and Park Lane at the world-class Ala Moana Shopping Center.
Buying Ala Moana / Kaka'ako Real Estate
For more information about the Ala Moana / Kaka'ako area, take a look at the following websites: