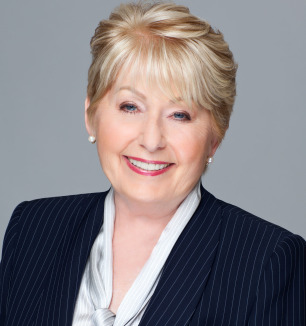 About Me
Founder of The Choi Group with Hawaii Life and formerly Honolulu's #1 Broker for 16+ Years, Patricia Choi was born in Birmingham, Alabama and moved to Hawaii in 1975 to be an estate, tax and real estate paralegal with the law firm of Torkildson, Katz, Conahan & Loden. There she met her husband, Cedric Choi, who was an associate attorney and licensed real estate agent. In 1981 she started her "boutique" real estate firm, specializing in luxury real estate and commercial properties.
During the 30+ years that she has been involved in real estate sales, Patricia has achieved over One Billion in sales and has distinguished herself as a leader in regional, national and international real estate organizations. Locally, she was the first recipient of the Aloha 'Aina Real Estate Award as the Realtor's Choice in 1998 for her service to the industry and clients, her professional and ethical conduct, her cooperative business approaches and extraordinary service to all in transactions. She was appointed by the Governor in 1999 to the Real Estate Commission of the State of Hawaii, to which she devoted part of her time as a public service until 2003.
Patricia has served on the National Association of Realtors' International Operations Committee and received an award as the Outstanding International Reciprocal Director to Korea for 2000.
Patricia, named one of the "35 Most Influential People in Luxury Real Estate", has been consistently ranked by The Wall Street Journal & REALTrends as one of the top brokers in the nation. Hawaii Business Magazine's annual prestigious Top 100 Realtor award program has repeatedly recognized Patricia as one of the Top Realtors in the State of Hawaii.
Testimonials
Thank you for the beautiful flowers; what a nice way to signify the
conclusion of our most recent transaction. Its success would not have
been possible without your hard work. Your market knowledge, as
well as your ability to move quickly and professionally, greatly
benefited my interests as both a buyer and a seller.

I'd especially like to compliment your staff's ability to coordinate with
mine when it came to dealing, with the many details of my property
and my visits to Honolulu. Their diligent efforts definitely paid off;
never have I seen arrangements worked out more seamlessly. Special
thanks to Nicole and Gwen for providing exceptional service.

I hope I'll have the opportunity to work with you again sometime in
the future.

— David Geffen, The David Geffen Company
I would be remiss if I did not thank you and your staff for the exceptional work you did in the marketing and sale of my Kahala Avenue Estate.

Having built thousands of homes and a number of shopping centers and office buildings, I did not have difficulty in selecting the best architects or contractors to design and build the Weinberg estate.

In selecting a real estate agent, however; I was operating outside my expertise and it was very difficult for me to decide. Pat Choi had a wonderful reputation, so did others.

After listing the property with you, however, I understood why you were the right choice. I doubt there is anyone who works as hard as you do in representing your client's interests. Your staff earned my confidence throughout the transaction, and since the sale. Every detail was handled in an extremely professional and discreet way. You
and your staff represent true quality.

Please feel free to include this letter in any presentation you may make to a prospective client. I feel fortunate to have chosen your company to represent me in the sale of the Weinberg Estate.

— William Weinberg
Let me express appreciation for your effort in helping us acquire our Wailupe property....Architectural planning, regulatory certifications, building permit approval, demolition of the old home on site, a newly built home - all done in a year and a half.

Of course, none of this would have been possible without your critical assistance in the purchase of this wonderful property. As you know, this is now our third purchase or sale with you over a ten year period. There may be one more sale if we decide to place our existing Blackpoint area home on the market.

Having the perspective of multiple purchases and sales over an extended period of market ups and downs makes it quite easy for me to highly recommend you. Your vast experience and strong insights have no equal in Kahala/Diamond Head when it's time to either buy or sell a home.

— Allen Doane
Having worked with you the past 25 years, I know you are extremely qualified and dedicated. I wanted to take this opportunity to congratulate you and to confirm that I look forward to continuing to send our valued estate and tax planning clients to you.

Keep up the good work!

— Elliot H. Loden, Attorney at Law
I wish to express my very strong appreciation for the great job you did in handling the sale of our apartment 432 at the Kahala Beach condominium.

Given the complexities of the leasehold situation at the Kahala Beach, your imaginative solutions and strong initiatives resulted in closing a very satisfactory sale, I'm sure, for both our interests and the buyer's. There were unusual conditions involving those negotiations, including the problems with the air conditioning which you dealt with efficiently. As problems developed in the negotiations, you had prompt solutions expressed with great tact and understanding.

— Martin Anderson, Goodsill Anderson Quinn & Stifel, A Limited Liability Law Partnership LLP
First, let us thank you for representing us in the sale of our home. We selected you and your company because we felt you had the best team to seek and secure the right buyer for the unique home we were going to offer for sale. We were not disappointed, and found that it was vitally
important that you be involved in the education of the cooperating brokers who in many cases lacked the experience and knowledge when it came to selling a home in this price level, much less with the unique features only experience can appreciate.

Secondly, as you know my specialty is Commercial Real Estate, and now I know why I am where I am. Your expertise in handling the high end residential buyer became crucial in the several potential transactions we went through, and in the end after keeping us on track we ended
up with a very satisfying result, and closed the sale.

Should you ever need a testimonial recommendation, let me know. As a fellow Broker, and Real Estate Professional, I can definitely recommend your services, as experienced, knowledgeable, resourceful, creative, and persistent! Have your prospects call me directly, and I will give them an earful of praise!

— Kim F. Scoggins, Colliers International
I wanted to take this opportunity to thank you for representing us in the sale of our Makiki Heights home. Although I have worked with you a number of times over the years in my capacity as a real estate lawyer, this is the first time I have had the opportunity to work with you as your client.

I initially chose your company to represent us due to the many good experiences I have had with you in my business as a real estate lawyer. However, now that I have been a client, I wanted to let you know that I really appreciate the efforts of your entire team in shepherding our sale from the marketing stage through the closing. In addition to your efforts, Cedric, Matt, Gwen Angie and Elna all provided valuable assistance in various aspects of our sale. Everyone with Choi International provided us with first rate service and we appreciate it very much.

— Steven V. Torkildson, Attorney at Law
I wanted to take this opportunity to thank you and your staff for your outstanding assistance in the sale of "Hi'iIani" - the highest sale for an off the ocean residence on the Island of Oahu.

When the decision was made to offer my prized residence for sale, it was not difficult to select you as the best Realtor to showcase my "Dream Home". With your reputation as a trusted professional with unparalleled talent and market expertise, I could not think of anyone else better suited to handle my needs.

In particular, I would like to thank you for financially screening prospective buyers to more efficiently manage the appointments to see my home. Your experience and professionalism were essential to this process and were greatly appreciated.

I was also impressed by the many avenues of promotional strategy that you employed to present "Hi'ilani" in local, national, and international markets. In addition to the presentation brochure and video, "Hi'ilani" was marketed on the Internet, in various magazines and publications, and through your private contacts and mailing lists. Your ability to provide the highest quality and far-reaching exposure was vital to the success of this sale.

If I ever require a Realtor's services in the future, please be assured I will contact you.

— Al Masini, Al Masini Productions
My wife and I wanted to thank you for your assistance in selling our house on Diamond Head. Your first class approach truly sets you apart from all of the others on the island. We felt like your first and only client.

I am impressed with the way you and your team handled the sale of our house in all aspects: pricing, staging, photography (waiting for the perfect weather), advertising, open houses, prompt updates on visitor feedback, buyer screening, closing documentation and even contractor and legal recommendations.

Anybody who tries to sell their home in Kahala/Diamond Head without first considering Choi International is negligent. We will be sure to strongly recommend your services to our friends and neighbors.

We look forward to working with you again in the future.

— George
I have had the considerable good fortune, working with an exemplary team at The Choi Group with Hawaii Life. As a client, I have experienced the stellar services the team provides; from staging furnishings, showings, to assistance with understanding the execution of documents, integral with every transaction.

The Choi team, whether representing my best interests as a Buyer or a Seller, has been successful in closing more than half a dozen real estate transactions. All exceeded my expectations.

— Corinne K. Wolfe, Honolulu, Hawaii (Client since 2010)