The Global Market for High End Homes
To understand the global market for high end homes, we have attached a research paper done by Christie's International Real Estate – Luxury Defined: An Insight into the Luxury Residential Property Market for 2014.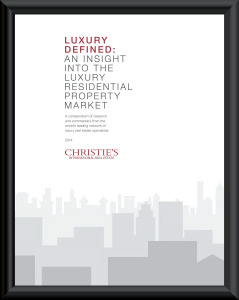 As you will see, for us at Choi International and for Christie's International Real Estate there is a difference between the real estate market in general and the high end market.
Here is an overview from the report (page number in parentheses):
In 2012, the high end of the luxury market came back and in 2013 the rest of the market above $1 million experienced "broad based home sales across all levels of the luxury market." "Luxury real estate shows a strong correlation with the top end of the fine art market as opposed to the general housing market." "This market momentum can be attributed partially to substantial wealth creation in 2013, fueled by an improving global economy and surging stock market prices, resulting in more billionaires and millionaires than ever." (2)
Luxury Real Estate is a relative term. In Honolulu, we use $1 million+ to define the entry point to the Luxury Market, while in London the entry point is an incredible $7.8 million. 2013 saw a growth over 2012 in Luxury Property sales in most Luxury Markets:
62% – San Francisco – Entry point of $3+ million
40% – Los Angeles – Entry point of $5+ million
29% – Sydney – Entry point of $1+ million
27% – Miami – Entry point of $2+ million
22% – New York – Entry point of $5+ million
20% – London – Entry point of $7.8 million – 50% foreign buyers
-15% – Hong Kong – Entry point of $2+ million – a change in tax laws is noted.
26% – Honolulu – $1 million and up (2013 – 576 sales vs 2012 – 456 sales).
Following are the average per square foot prices in the 3 most expensive markets:
London – $4,683
Hong Kong – $2,578
Cote d'Azur – $2,133
London, the Cote D'Azur and Los Angeles had record high prices of over $6,000 psf, with Hong Kong topping out at $16,285 psf. (4)
Asian buyers continue to turn to cities like LA, NY, SF and Sydney. "According to a recent Bain & Company/China Merchants Bank study, three out of five wealthy mainland Chinese are looking to emigrate, with 'quality of life' and 'children's education' as primary motivators." (8)  ". . .luxury residential real estate tends to correlate more closely to luxury goods than it does to the general housing market. Fine art, the category led globally by Christie's auction house, is the luxury goods sector showing strong synergies with the prime property market, as both are assets of passion and lifestyle." (Exhibit 8 on p. 10)
The market for real estate in general is predicted to slow per Robert Shiller, Yale University economist and founder of the Case-Shiller Index – "Home prices will probably go up (in 2014), but not like they have been. It's going to slow down." Conversely, at the high end, real estate remains an important place for high-net-worth individuals to safely invest their wealth, and will continue to be so in the near future. (11)
Our Perspective on The Global Market and Hawaii
So, what does this all mean for high end properties in Hawaii?
In our view, the world-wide demand for unique properties will continue, as long as the broad economic conditions that have fueled the high end real estate market continue.
Our affiliation with Christie's auction house provides insight into the luxury art, wine and collectible markets. The performance at auctions of irreplaceable items will correlate closely with the luxury real estate market. Christie's also provides us with a source of highly qualified clients.
Of the potential clients, China will obviously be the most important. We are just beginning to see their influence here in Honolulu. "A remarkable 80 percent of Chinese high net worth individuals are looking to send their children to study abroad, with the UK and US as countries of choice". "I predict that in the next five years, real estate purchases from China will dwarf the rates of today", according to Rupert Hoogewerf, Hurun Report Chairman and Chief Researcher. The Hurun Report is like a Forbes list of wealthy Chinese, however, the list is not entirely complete as some wealthy Chinese choose not to be in the report.
We have been going to Asia for the last 5 years and our company will continue to pay special attention to China, Korea, Singapore and Japan. We have learned that Honolulu offers much of what Asian buyers want – clean air, water, food sources and great education. All of this is wrapped in a City that is welcoming to Asians and a perfect entre into American culture.
Thank you for your interest in our view of the Luxury Real Estate Market. We are truly excited by the future of high end real estate in Hawaii and our relationship with Christie's.