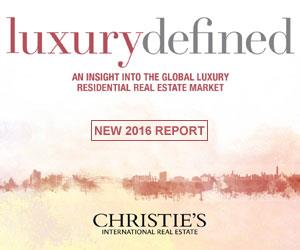 View report here:  www.christiesrealestate.com/luxury-defined
"RETURN TO REALISM" KEY FINDING OF 2016 EDITION OF LUXURY DEFINED ANNUAL GLOBAL REPORT
Growth Stabilizes to Sustainable Levels in Many Major Hubs While Strong Recovery Underway  in 'Comeback' and 'Opportunity' Markets Worldwide
Choi International is One of 100 Brokerages around the World Contributing to Christie's International Real Estate's Yearly Luxury Market Analysis
NEW YORK (May 2016) – After beginning 2015 with the breakneck pace of 2014, international luxury housing in major markets experienced a return to realism in the second part of 2015 and into 2016. The result reflects an overall normalization in luxury residential real estate growth rates and pricing, according to a report released by Christie's International Real Estate.
"Real estate in the world's top markets continues to be an important part of a globally diversified investment portfolio," Dan Conn, CEO of Christie's International Real estate said. "Other markets that were off the radar screen have also become increasingly attractive as an investment opportunity as buyers seek out favorable risk adjusted returns."
Major markets worldwide posted an 8 percent rise in sales for homes valued over $2.5 million, half that of the year prior. Meanwhile, emerging luxury markets continued their steady evolution and numerous 'comeback' markets are enjoying a new era of growth after years of decline. This can be attributed to a range of factors, from shifting geopolitical and financial conditions, including the impact of currency flows, to the changing preferences of high-value property buyers.
These, plus many other factors related to the worldwide luxury residential market, are noted in Luxury Defined, a just-released annual study by Christie's International Real Estate, the world's leading high-end residential real estate network, of which Choi International is an exclusive Affiliate.
The report examines 100 luxury real estate markets and provides first-hand insights from the Affiliate network for commentary on the drivers shaping them. The annual Christie's International Real Estate Index, which compares key data and luxury house price metrics, yielded a new set of global benchmarks for 2015 and provided a closer look at the overall health of the luxury marketplace.
Contrary to other research real estate studies, Luxury Defined not only comprises standard luxury property market measurements – such as top sale prices, volume of luxury home sales, average sale prices, etc. – but also "Perfect Pairings", comparable price points of Art and Real Estate; "What $5 Million Buys Around the World", and "The Art of the Collection" – a look at luxury home amenities.
Christie's International Real Estate is wholly owned by Christie's and is committed to its core values of expertise in marketing luxury assets, exemplary client service, and discretion. The Luxury Defined study can be accessed at christiesrealestate.com/luxury-defined.
Connect with Christie's International Real Estate on Twitter @christieshomes, on Instagram @christiesrealestate, and join the conversation about the findings with #LuxuryDefined.
###
About Christie's International Real Estate
Christie's International Real Estate is an invitation-only affiliate network composed of the world's most proven and qualified real estate specialists in the luxury residential sector. The company has offices in London, New York, Hong Kong, Moscow, Los Angeles, and Palm Beach, and approximately 135 global affiliates with 32,000 real estate professionals in 45 countries. For additional information, please visit www.christiesrealestate.com.